January 2014
Glasgow Drop-in Class
Glasgow Course Postponed
Guest Drop-in Workshop by Garry Dobson
New Weekly show for 2014!
February 2014
To Be Continued… Are Holding Auditions for New Members
To Be Continued… are currently looking to audition for new improvisers, as well as potentially musicians, to perform with us throughout the year, as well as during the Edinburgh Fringe Festival - our biggest event of the year. If successful, you would be expected to rehearse with us weekly on a Wednesday evening, as well as perform at some of our Thursday night shows.
Auditions will be held in the basement of the Tron pub, 9 Hunter Square, Edinburgh. There will be two rounds of auditions, on Wednesday 5th and 12th of March at 6pm. Auditions will consist of improvising with members of the troupe, and a brief chat with one of the members.
To apply, please email answering the following questions:
What is your improv experience?
What performing do you do now, and what are your goals for the future?
Who are your comedy heroes and why?
You are about to be eaten by a shark (who can fortunately speak English). You can say 7 words to spare your life, what do you say?
In addition, please state a preference for which date you would like to attend, and if you are a musician what instrument(s) you play.
If you are interested in auditioning please contact To Be Continued… via the contact page for more information. You are encouraged to either e-mail a headshot and resume or bring one with you to your audition.
Monday Nights = Improv Training Night
After a great response from the public (and the good people at Avant Garde), To Be Continued… are pleased to announce Monday night drop-in workshop from 11th February to 11th March, 6-7:30pm.
Whether you're Edinburgh based or Glasgow based, Monday night is now well and truly improv training night!
Glasgow Drop-in Class
After a successful class on Monday 3rd, there will be another drop-in workshop in Glasgow on Monday 10th; this time, at a shiny new venue: Avant Garde in the Merchant City (ooo, shiny!). As always with drop-in classes, no need to pre-book; simply turn up, have fun and pay on the night.
March 2014
Jonathan Monkhouse Guest Workshop this April!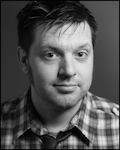 Saturday 26th April 2014. Save that date in your diaries. Why you ask? A very good question indeed: Jonathan Monkhouse is coming to Edinburgh teach a half-day improv workshop.
Want to find out more an book your place? In that case, you'll need this link. Huzzah!
New show to listen out for: Improv Scotland Podcast!

For those looking looking for their improv podcast fix need look no further than the new Improv Scotland Podcast. Featuring top improvisers from all over Scotland and presented by To Be Continued…'s Mara Joy, this podcast aims to spread the joy and hilarity of improv to all while showcasing the exceptional talent in the burgeoning improvisation scene in Scotland!
(Be sure to catch guest appearances from troupe member Nicola Dove in episode 1 and Paul Connolly/Sam Irving in episode 2).
June 2014
A Shiney New (Responsive) Website
It's that time of the year when Paul is let loose and allowed to make updates to the website: this time, in addition to some design tweaks, he's made the site "responsive" (so it should look pretty on tablets and mobiles - we'll let you decide how accurate that is :P)
What do you think of the changes? Any further ideas you would suggest? Let us know via the contact section!
New Members Alert: Welcoming Will and Eric
Mr Dobson Guest Workshop this July!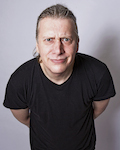 "Mr Dobson", To Be Continued… asked kindly, "would you be interested in being the next teacher in our 'invited teachers' series of half-day workshops? Your workshops have been awfully good in the past and we would like to give the public another chance to try one out (or perhaps try one for the first time)!"
"Why of course!" replied Mr Dobson, most gleefully, "but" he said with a most earnest of tone "I shall only do it if I can have more time to teach..."
"You don't mean...?" cried To Be Continued…
"Oh but I do" replied the gentle giant, "I wish to teach for the whole day: 10am-4pm!"
"10am-4pm?!"
"10am-4pm! The time has come for such a challenge: I am prepared for it, and so too are the Scottish public!"
"In that case, 10am-4pm it shall be."
And so it was decreed that, on Saturday 5th July 2014, Mr Garry Dobson will teach a half-day (full-day) workshop, from 10am to 4pm.
To find out more and book your place, follow this link!
September 2014
To Be Continued… Bids Farewell, Thank You and Good Luck to Lauren!
In 2009, if you had wanted to learn and perform improv in Scotland, there weren't too many options: some free Saturday classes in Edinburgh; some drama courses that considered improv as simply a warm up exercise; disperate university improv groups. That was pretty much it.
Today, there are several groups performing in Edinburgh and more further afield, different workshop classes and courses running all the time, guest workshops run by some of Britain's top improvisers and a community that is beginning to thrive.
While it would be unfair to discount the numerous people who have (and still do) work hard to contribute to the Scottish improv scene, it would equally be a diservice to ignore the efforts of one lady in particular for this transformation: Lauren Berning.
This month, 5 years after first setting up home in Edinburgh, Lauren will be departing for (the slightly warmer) Hong Kong.
Arriving in Edinburgh and finding, in the world with the largest arts festival, no to little in the way of improv, she set out to create a troupe to perform with and a scene to be part of. That troupe would become To Be Continued…. The scene is the one we are part of today. Nearly every member of To Be Continued… - past and present - learned from Lauren, either as their first improv teacher or giving them a new perspective on our artform. Whether you were taught by her, performed with her or have never actually met her before, there is a good chance that, if you are performing or learning improv in Scotland today, you have Lauren to thank (even in some small way).
Lauren, from everyone at To Be Continued…: you've been our teacher, our leader, our fellow performer, but, most of all, you've been our friend. Take care while having fun in Hong Kong (and let's see if you can't create an improv scene there)!
October 2014
To Be Continued… have a sell-out show (again!)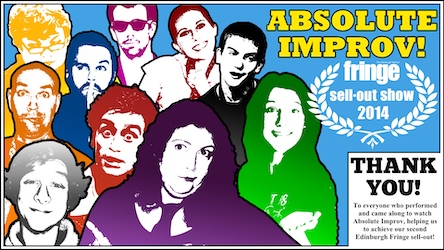 We have just had word in that Absolute Improv! was an official Edinburgh Fringe Festival sell-out show 2014, for a second year in a row. A massive well done to all the performers for the tireless (and hilarious) work they put in over the summer, and a big thank you to theSpace (venue). Most of all, thank you to the wonderful audiences we had come along to the shows: your wonderful ideas and energy made it a success and a lot of fun too!