January 2013
To Be Continued… Are Holding Auditions for New Members
Places have become available in To Be Continued… and the troupe are looking for new company members to take those places!
Auditions will take place on February 20th and 27th @ 6:00pm at the Canons' Gait Pub on the Royal Mile. You need only attend 1 audition slot, not both.
Auditions will consist of warm-ups, scene work, and short form games.
The troupe is seeking experienced improvisers. Potential members must be free to rehearse once a week on Wednesdays and perform regularly on weekends and throughout August.
If you are interested in auditioning please contact To Be Continued… via the contact page for more information. You are encouraged to either e-mail a headshot and resume or bring one with you to your audition.
February 2013
To Be Continued… Are Moving…
Edinburgh workshops are moving to a new home at The Tron, 9 Hunter Square. For those who are auditioning to join the troupe, the auditions will also be held here. We hope to see you all there!
April 2013
New members of To Be Continued...!
May 2013
Musicians Wanted!
To Be Continued… are on the hunt for a musician to add to their troupe! This is an exciting opportunity to work on a regular basis with an established, active, Edinburgh-based comedy ensemble, with rehearsals each week, shows several times per month and regular tours to national and international comedy festivals.
What we are looking for:
A musician with a main instrument other than keyboard
A good team player!
A musician who is competent and confident at improvising both solo and with others
Someone who can commit to taking part in rehearsals on Wednesday evenings & performances regularly on weekends
We currently have a keyboard player in the troupe - we are looking for somebody who can both collaborate with him and can work without him.
Experience within comedy is not essential, but experience with improvising is necessary. All instruments will be considered, however as there is already a keyboardist in our ranks it may be difficult to fit another in (but not impossible - don't be shy!).
Auditions will take place at The Tron Bar, Edinburgh, EH1 1QW.
If you think you even might have what it takes then get in touch! We don't bite, and the audition will be at least a fun experience, at least the beginning of an exciting journey.
July 2013
Glasgow workshops on hold for Summer
Due to unforeseen circumstances, we have had to finish up the Glasgow workshops early for the Summer. As such, there will be no classes on Tuesday 16th, 23rd or 30th July.
Classes will resume in Glasgow from September (dates to be finalised in due course).
September 2013
Paddy Flies The Nest
Though sad to announce the departure of long-time member Paddy Hare, everyone at To Be Continued… wishes him all the best for his future projects.
October 2013
Glasgow Workshop Class Postponed (29 October)
Due to unforeseen circumstances, the workshop scheduled to run in Glasgow on Tuesday 29 October has had to be postponed. A rescheduled date will be posted as soon as it is available.
November 2013
To Be Continued… have a sell-out show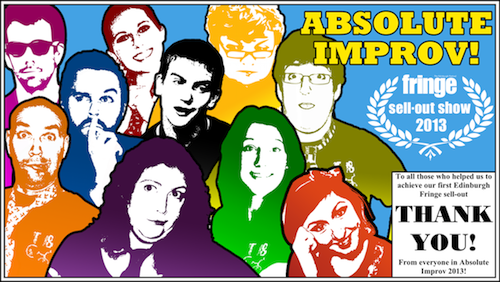 It's official: Absolute Improv! was an official Edinburgh Fringe Festival sell-out show 2013! A big thank you to everyone who came along to the shows and made it possible
To Be Continued… has a new member!
The troupe are happy and excited to announce the addition of long-time friend and guest performer Mara Joy to To Be Continued…!
December 2013
Merry Christmas and a Happy New Year!
From everyone at To Be Continued…, we wish you all a very Merry Christmas and a Happy New Year (and Happy Holidays for our fans across the pond!)
2013 has been a good year for the troupe with new members, busy courses, sell-out shows and more. A big thank you to everyone who came along to the shows and workshops, and to those unsung heroes behind the scenes who help to keep the troupe members going.
Now, let's make 2014 even more spectacular!
Sabrina Heads For Pastures Old...
The troupe are sad to announce the departure of Sabrina Martin as she heads back to her native New Zealand for 2014. Though her time with To Be Continued… may have been short, it has certainly been sweet. Take care, are remember there will always be a space in the troupe for our Kiwi friend in the future!